FIRST IN LINE, FROM THE NETHERLANDS
Very first in the queue waiting for the distillery gates to open and Rock'ndaal to begin was Nico from Holland, who secured his spot at 7.15am and was sitting atop a Bruichladdich cask with a beaming smile, soaking up the sun. "I always come to Bruichladdich - it's the best day," said Nico, who tasted his first dram of our whisky in 2012 at a whisky festival in The Hague. A big Octomore fan, he said he comes for the bottles but stays for the music and atmosphere. "I like to walk around. It's about connecting with people."
SHIMMYING IN FROM SCANDINAVIA
It was Suzanne Lindblom's first time on Scottish soil. The Masterclass was 'amazing', she said. The first female to join her whisky club back home in Västerås, near Stockholm, she now talks about single malts online for the group's whisky stream. She hopes she's persuaded Head Distiller Adam Hannett to join her group for an online chat soon! She came across our whisky a decade ago, but it's the Port Charlotte that stole her heart. "I love the smokiness," she said. As for her first taste of Fèis? "I love it!" She said. "The atmosphere, the people, everything. You can see the sea, the ocean, smell the smokiness in the air."
FESTIVAL FIRST-TIMERS
Craig and Nicola hopped over from Falkirk and Edinburgh for their first experience of Fèis Ìle, and their first Masterclass with Adam Hannett. Craig knows Bruichladdich and said he was looking forward to meeting the Laddie Crew in person. The couple are passionate about the environment and are excited about the steps we have taken on our sustainability journey.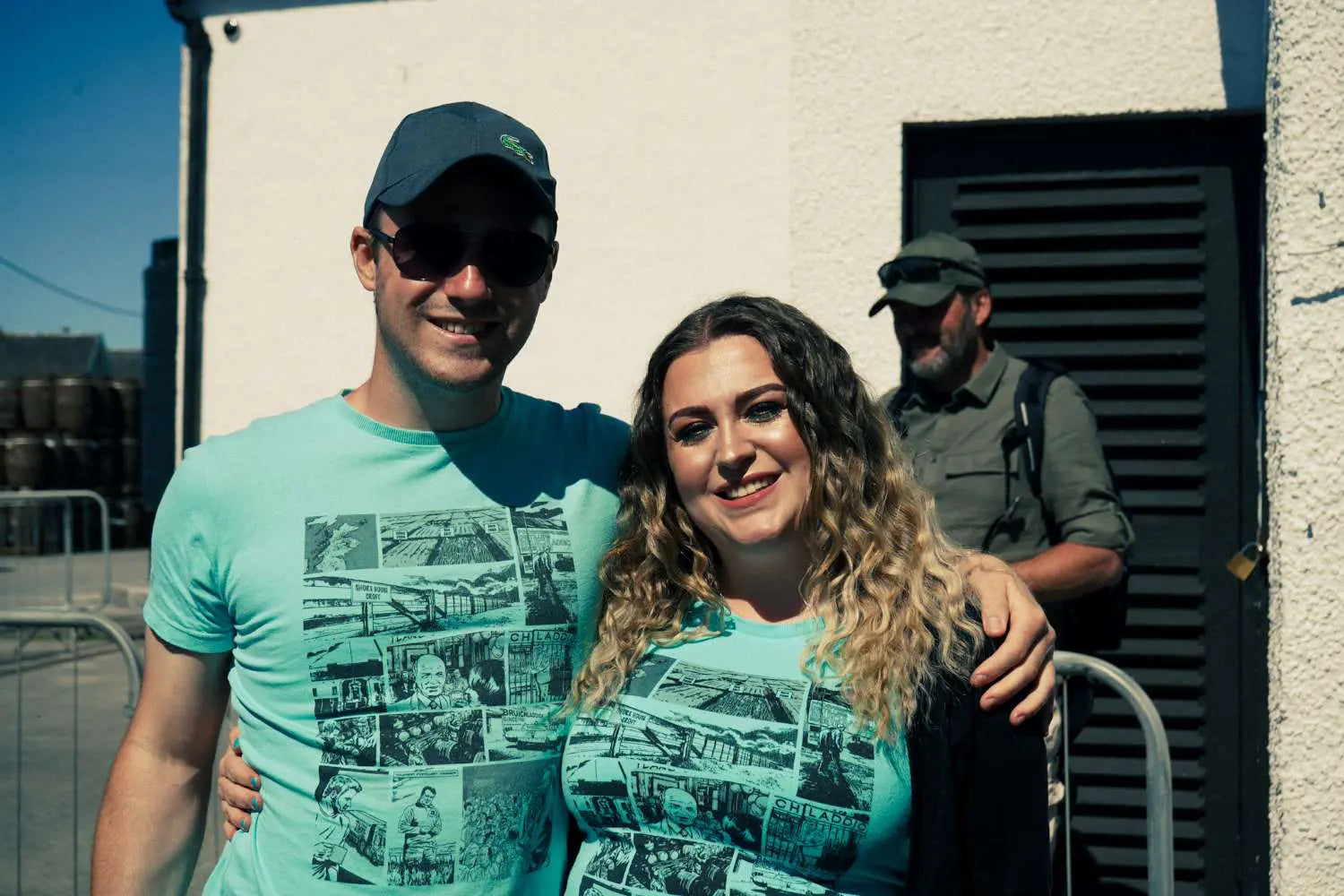 TIP-OFF FROM DAD
Jack and Charlie came up from London and Lancaster. Jack's dad used to live on Islay and told them Bruichladdich Distillery was the best festival day - so here they came! First-time visitors, both are fans of Classic Laddie, but they're also The Botanist drinkers. Later on they were spotted with the rest of the festival faithful rocking out to Tide Lines. Verdict? "Absolutely brilliant!"
REUNIONS AND RETURNS
One group of returning festival-goers chose Rock'ndaal for a reunion, celebrating the 40th birthday of one of the gang. They had all lived in Glasgow together years ago. There was Hugh Lawson from Glasgow, Tommy Bosche originally from Esse in South Africa, David Kennedy from just across the water in Northern Ireland and Dion Theron here for the weekend from Stellenbosch in South Africa. They loved our virtual Fèis Ìle celebrations in 2020 and 2021 but were so glad to be able to come in person - "We've missed it!" They said. David said. "It's a proper festival - it's got a buzz about the day."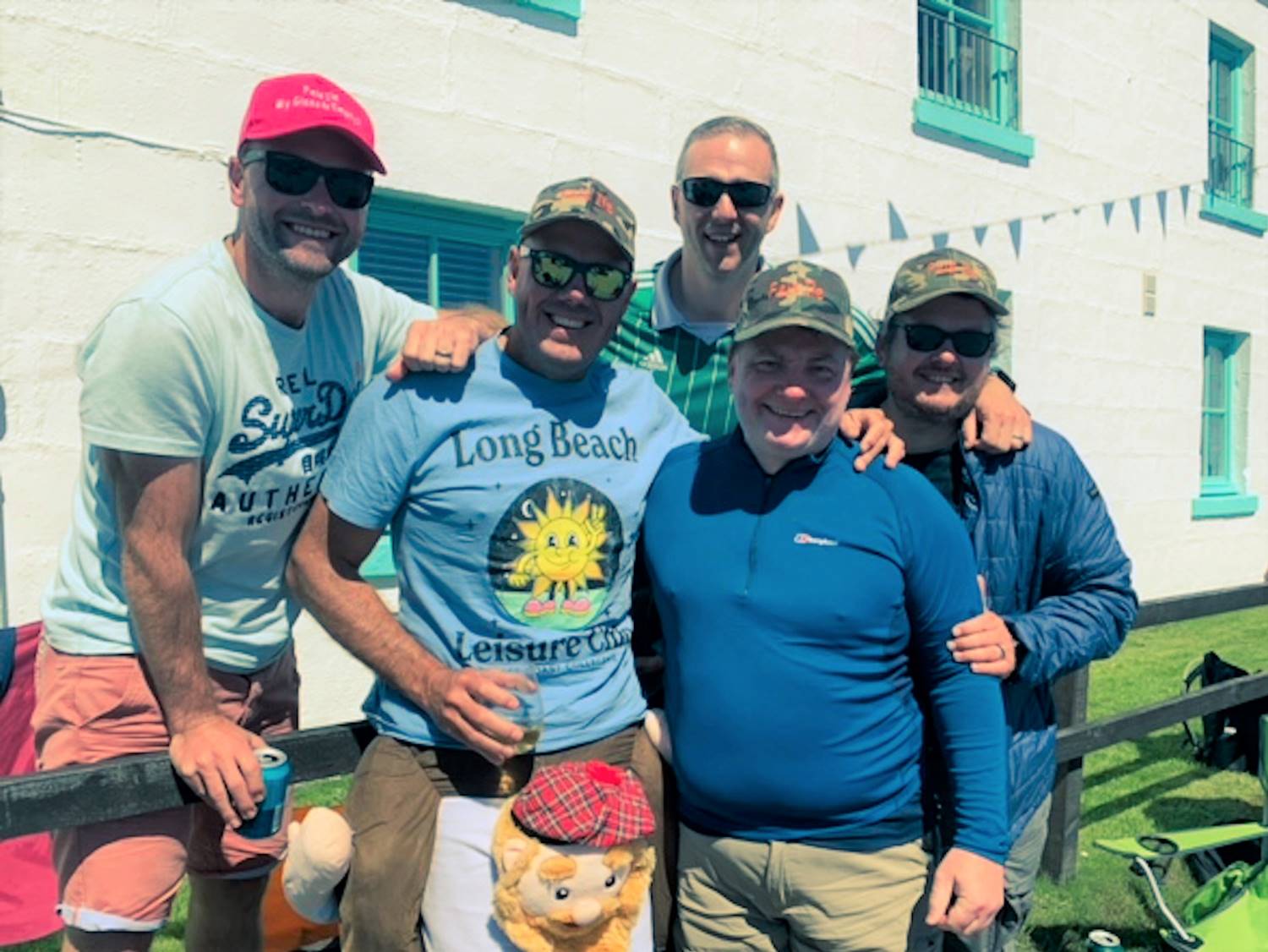 ONLINE FROM NEAR AND FAR
In parallel to the gathering in the courtyard, those tuning in to our virtual venue had access to the Masterclass, the main stage, The Botanist's Martini-making workshop, and some special interviews and behind-the-scenes green-room style chats taking place in our new in-house studio.
One such viewer was Kenneth Begg, who said, "I couldn't make it over for Fèis Ìle, so I am watching from Fife. Great so far and I am so jealous to not be there!" Michael Marrow in Australia asked a question online - hoping Adam would be able to answer it during the after-party masterclass chat. "Look forward to his reply while sipping on an Octomore down under!" he posted. A J Lapre, a Grand Canyon Ranger, said: "I liked feeling connected to the festivities even though I wasn't there. I have been involved in all of the virtual events since 2020 and loved them all."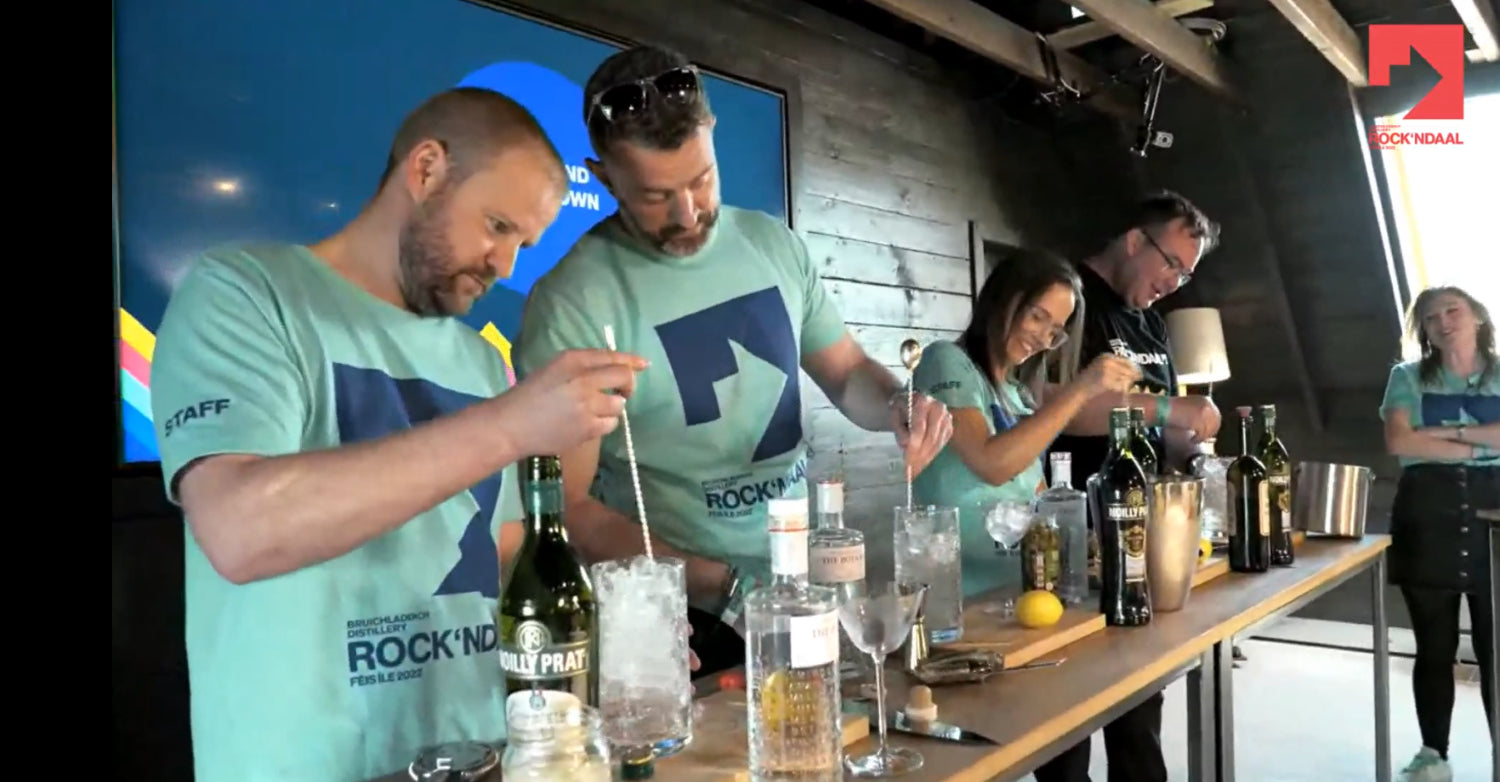 LADIES' DAY
Cathy Coe was all the way from Houston - that's Houston near Glasgow, not Houston, Texas - with a group of friends from around Scotland's central belt, including Jillian Campbell, Vicky Bogle and Lilian Hamilton. "It's our favourite day," she said. "Bruichladdich Festival Day is the equivalent of Ladies' Day at Ascot for us. It's always good, the sun always shines - and there's gin!" A collector, rather than a drinker, of whisky, Cathy said once the festival bottles were bought, they would be heading for The Botanist gin tent to sample a cocktail or two. "We love the atmosphere and the music," she said. And what makes Bruichladdich Day so special? "It's traditional! We've come for years and love the Scottish dancing - we've seen all the girls grow up here!"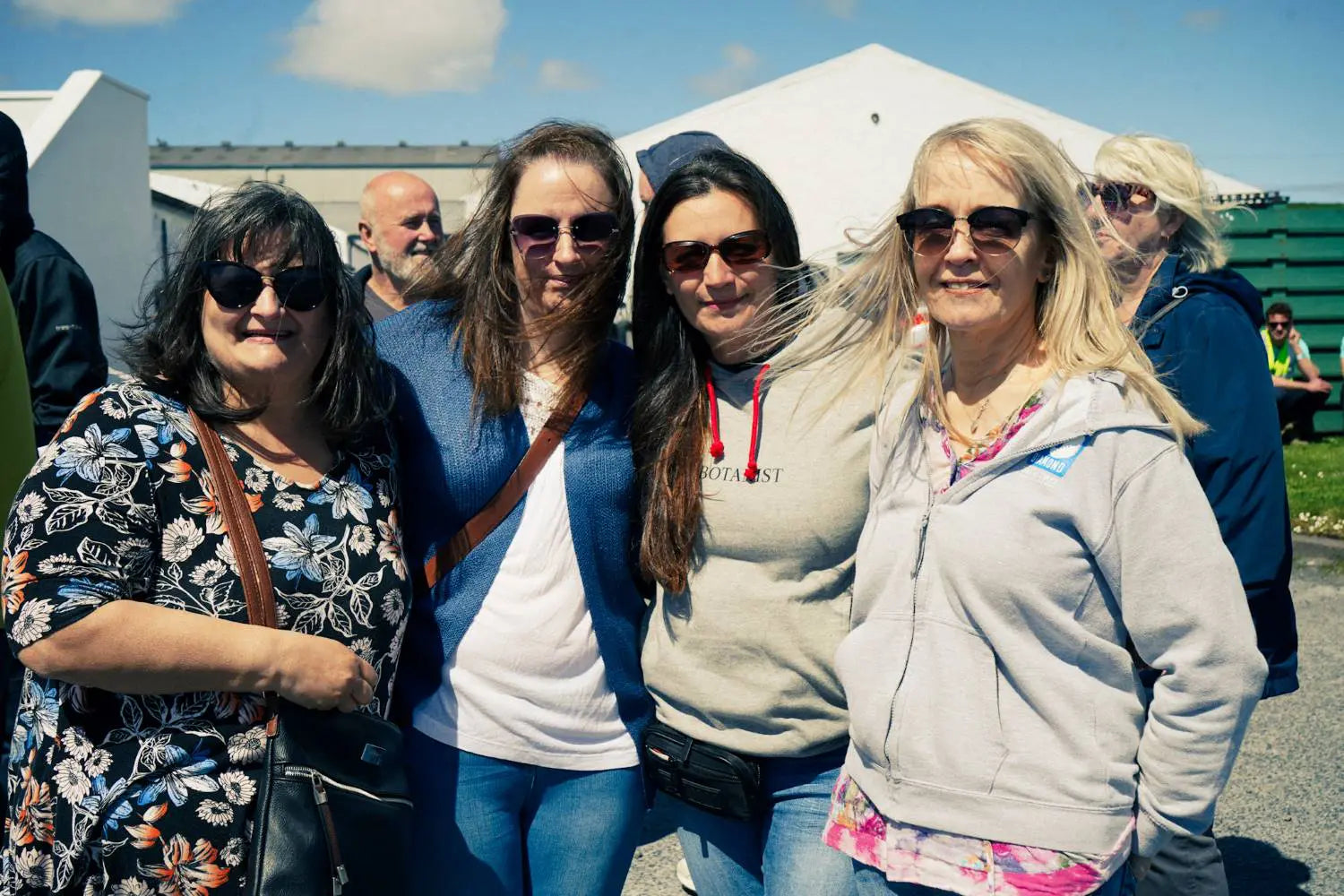 GERMAN ROOTS, SCOTTISH STYLE
Chris Tell, Nicolai Froehlich and Fabian Schneppat take their whisky and attire seriously. Cutting a dash in kilts and tweeds, the three friends journeyed from Germany. Nicolai first came to Fèis in 2012, Chris in 2018, and 2022 marked the first time for Fabian. "I started collecting whisky in 2005," said Nicolai, who discovered Bruichladdich Distillery when he was serving drinks as a barman. He says he's travelled the world extolling its virtues, but one particular bottle stands out. "It has to be the Octomore 6.3 - it's the loveliest whisky I have ever tasted."
Nicolai's connections to Fèis go back to his parents, who came to Bruichladdich Distillery from Germany on a motorcycle especially to pick up some of the quadruple-distilled Octomore. "There's always good music and good weather, the food is great and it's so well-organised," he said.
ILEACHS AND ALL
Jim Rozga was one of many Ileachs (people from Islay) at the festival. He lives down the road in Port Ellen (in the South of the island). He had been outside the Bruichladdich Distillery gates with friend Thomas Goettsch from Dortmund, since 7.30am. Thomas got a taste for malt whisky back in the '70s but his first whisky festival was in 2013. "I love the food and the stalls and the music- it's the best open day in Fèis," he said. Thomas' last festival was in 2017. He's also a fan of the food - especially the burgers!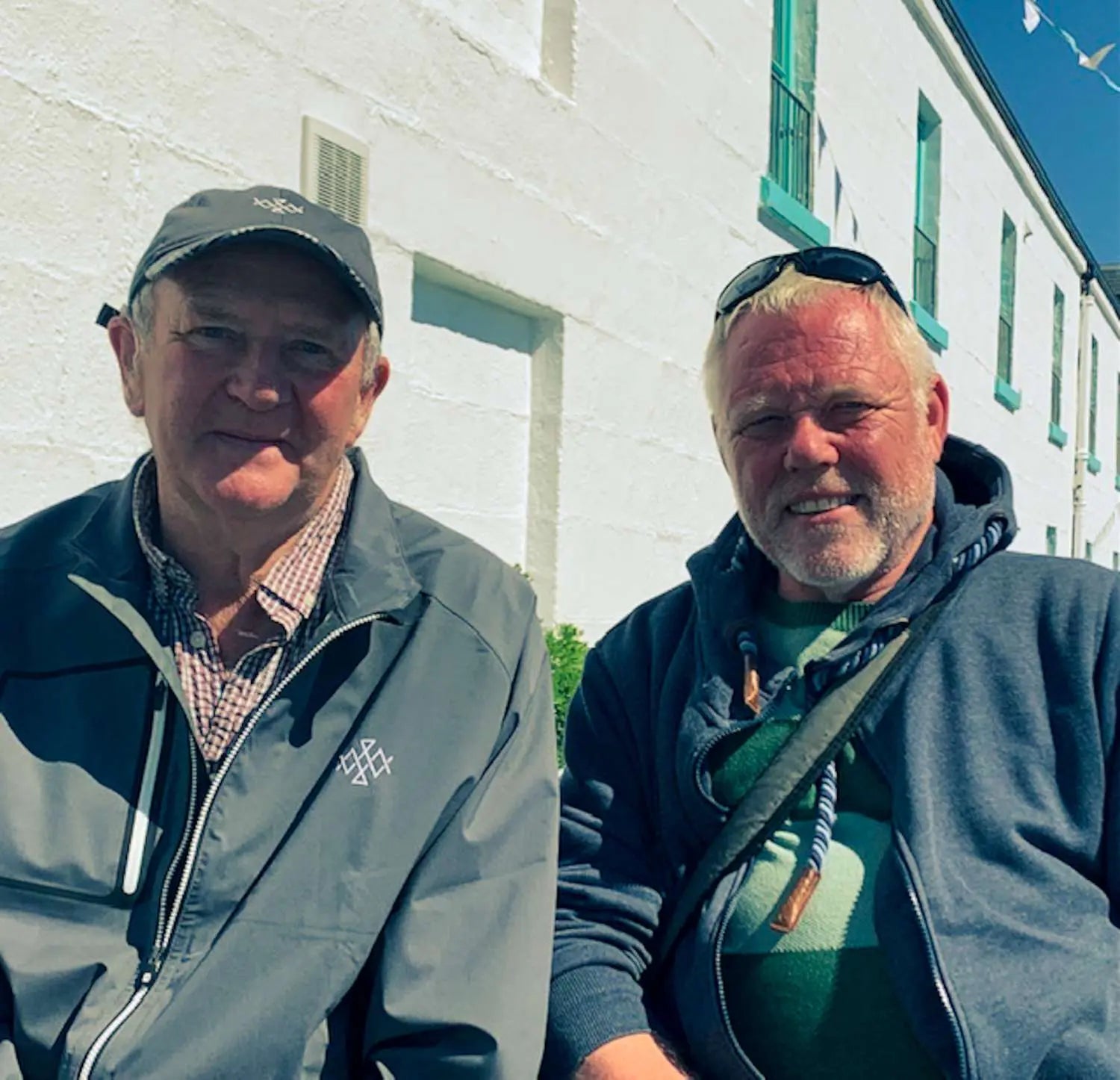 DIVERSE LOCAL TALENT
The burgers served on our festival barbecue are from Octomore Farm cows - the same Octomore Farm which supplies water for Bruichladdich Distillery. Octomore Farmer, James Brown was among those in the crowd and has been at every one of Bruichladdich's festival days. "I've a perfect attendance record!" he said.
It was a sell out day for Islay Oysters, who shared their harvest fresh from local farm Craigens, who also supply us with malting barley. Locally made curry was provided by Ballygrant Inn; they have a national reputation for their whisky bar.
There were artisans from all over the island with stalls for their products – including pictures, leather goods, jewellery, prints and marmalade. David and Sybil Pomeroy have been selling hand-made jewellery here for a decade. "This year has been the best year for a long time," said David.
ROCKING OUT NEARBY
Down the road at Bridgend Hotel, a watch party was going on - Rock'ndaal: Access All Areas was being live-streamed in the bar. Manager Iain Hamilton created a whisky bar takeover of Bruichladdich Distillery single malts and The Botanist, with staff standing by ready to serve matching cocktails to those on offer at The Botanist bar in the distillery courtyard. Iain had been part of our studio audience earlier in the day for the broadcast of Adam's Masterclass Afterparty.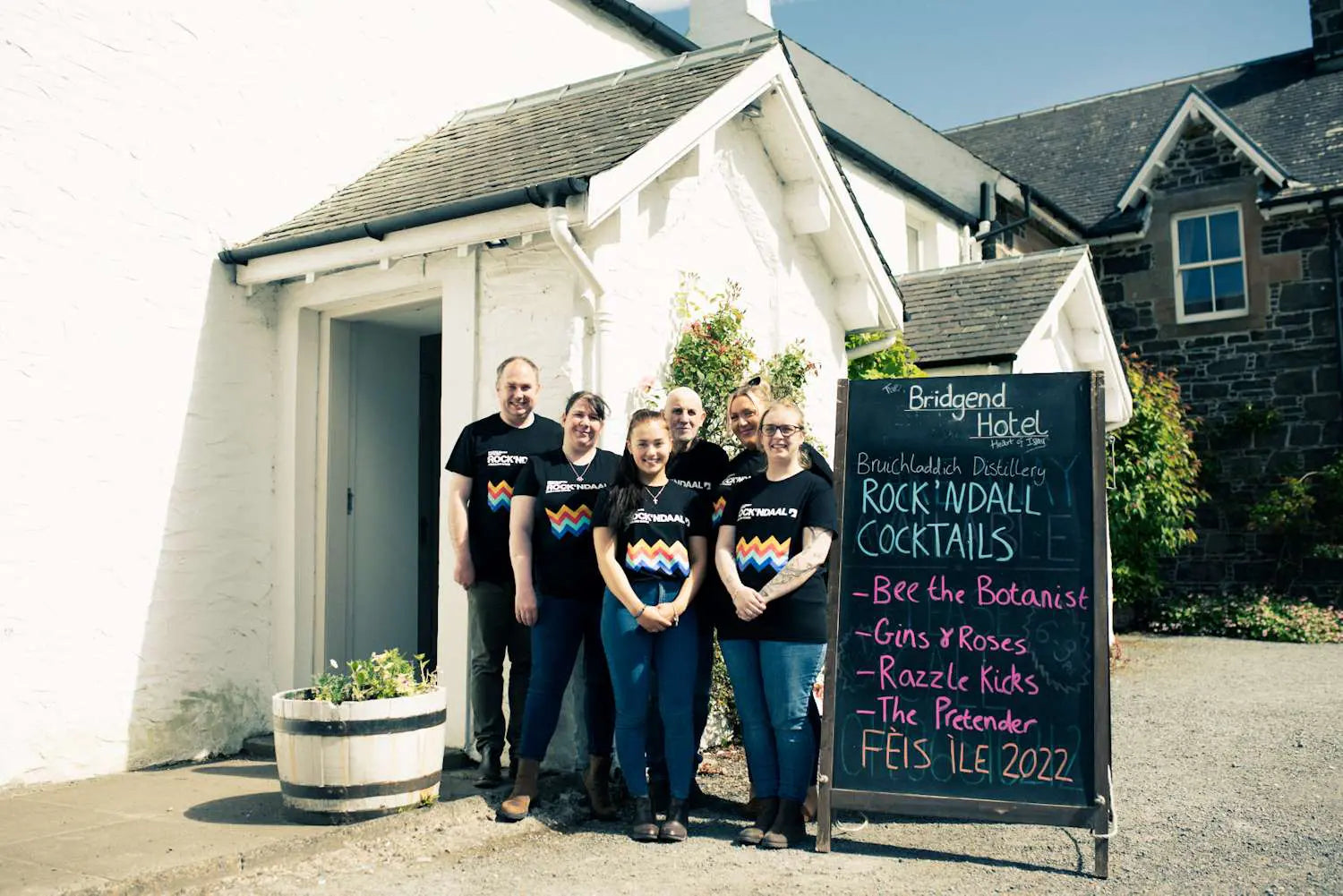 WINNING TICKET
Outside Bridgend hotel, friends Ludovic and Christophe, who had come from Switzerland where they live near the French border, were enjoying a beer and a dram. They'd been at Bruichladdich Day and had come to keep the festival feeling going at Bridgend.
Ludovic said he'd been coming to Islay for Fèis Ìle for 12 years. The first time he came, he recalled attending a ceilidh in a warehouse where he bought a raffle ticket for £1. It turned out to be the winning ticket and he scooped the full collection of festival bottles. He said the music and the ambience were always fantastic at Bruichladdich Distillery. "The difference is people stay all day - they want to linger a long time."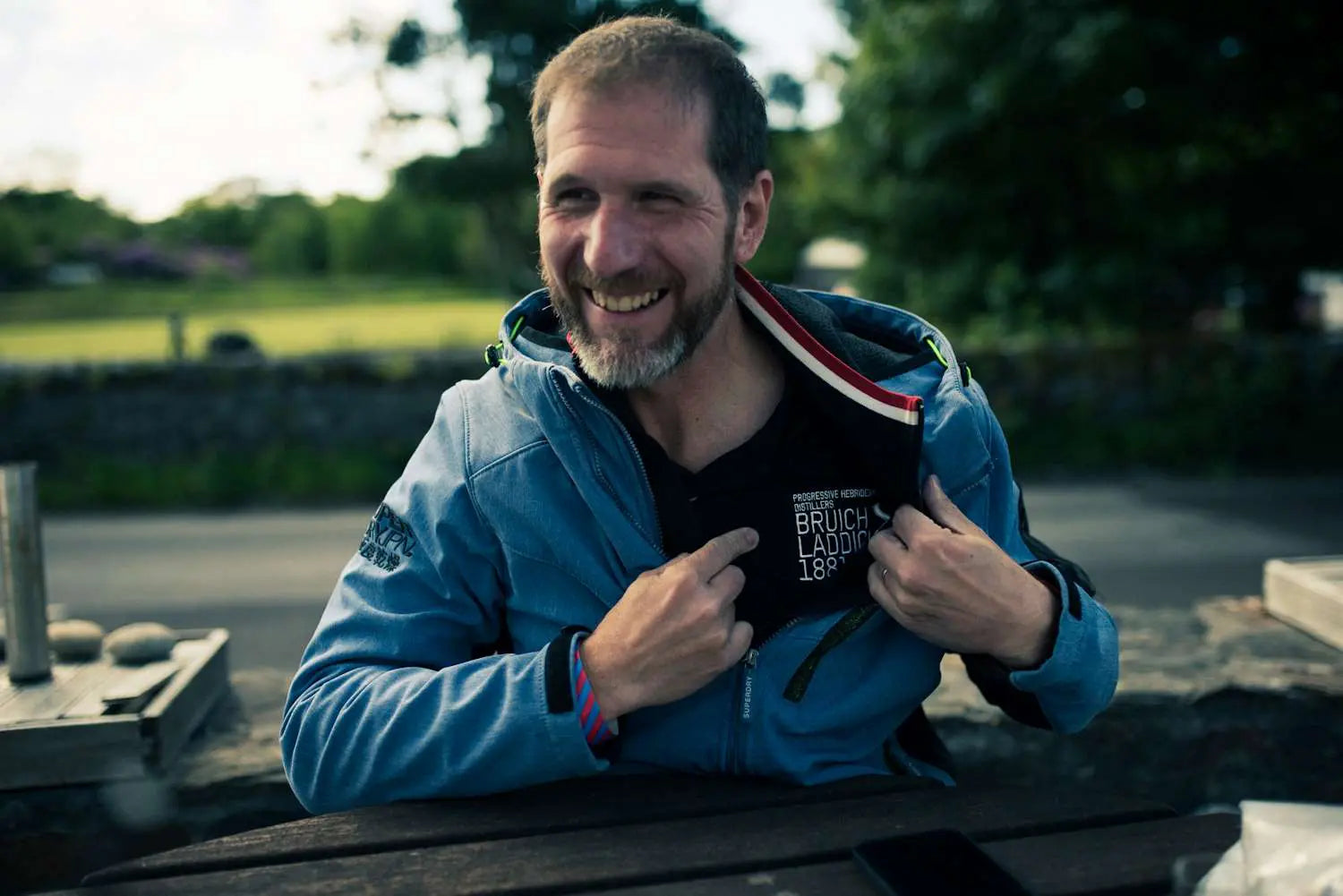 REFLECTIONS AND REVELRIES
Bruichladdich Distillery co-founder, Simon Coughlin, spoke of how the festival - and our own festival day - had grown. "I thought the first festival was busy, and I saw a photograph quite recently of the courtyard and it was like an old Scout tent, a couple of barrels and about 20 people - now there clearly were more people there than that but when you compare that to what goes on today…" He summed up the event: "It's the day that I love just bumping into people, friends, supporters, people that have been on the journey with us for years. It gives you a moment to sort of look back"