CHALLENGING CONVENTIONS
---
When we place so much importance on provenance, community, sustainability and transparency, we need to consider packaging as an extension of these core values.

Traditionally, as with most of the industry, our whisky comes with secondary packaging. All our single malts have been packaged in a recyclable, secondary steel tin with each glass bottle housed neatly inside.
In our mission to use less and use better, we asked ourselves the question: does our whisky need a tin at all?

Our ambition is to not only eradicate our waste to landfill but to use waste as a resource to the best of our ability and create circularity in our production lifecycle; implementing composting facilities, effluent management systems and improving our water management.

Our focus is two-fold: USE LESS - Reduce 100% unnecessary packaging and encourage our clients to refuse packaging where it is not needed.

USE BETTER - Ensure the materials we do use are recyclable or re-usable.
REVOLUTION IN GLASS
In our values-led mission to use less and use better, we have introduced a new bottle for our signature Bruichladdich Classic Laddie Islay single malt Scotch whisky.
The innovative proprietary glass bottle combines our values with sustainable design principles and while reducing our environmental impact.
Compared to our previous bottle, the new design reduces our packaging CO2 emissions by 65% through a number of optimised design changes, including the removal of secondary packaging. It also contains an average of 60% recycled glass and is 32% lighter, meaning that we can get more bottles per pallet on to and off Islay – reducing our carbon footprint when it comes to shipping.
It's another significant step in our journey, showcasing our commitment to progress, innovation and sustainability.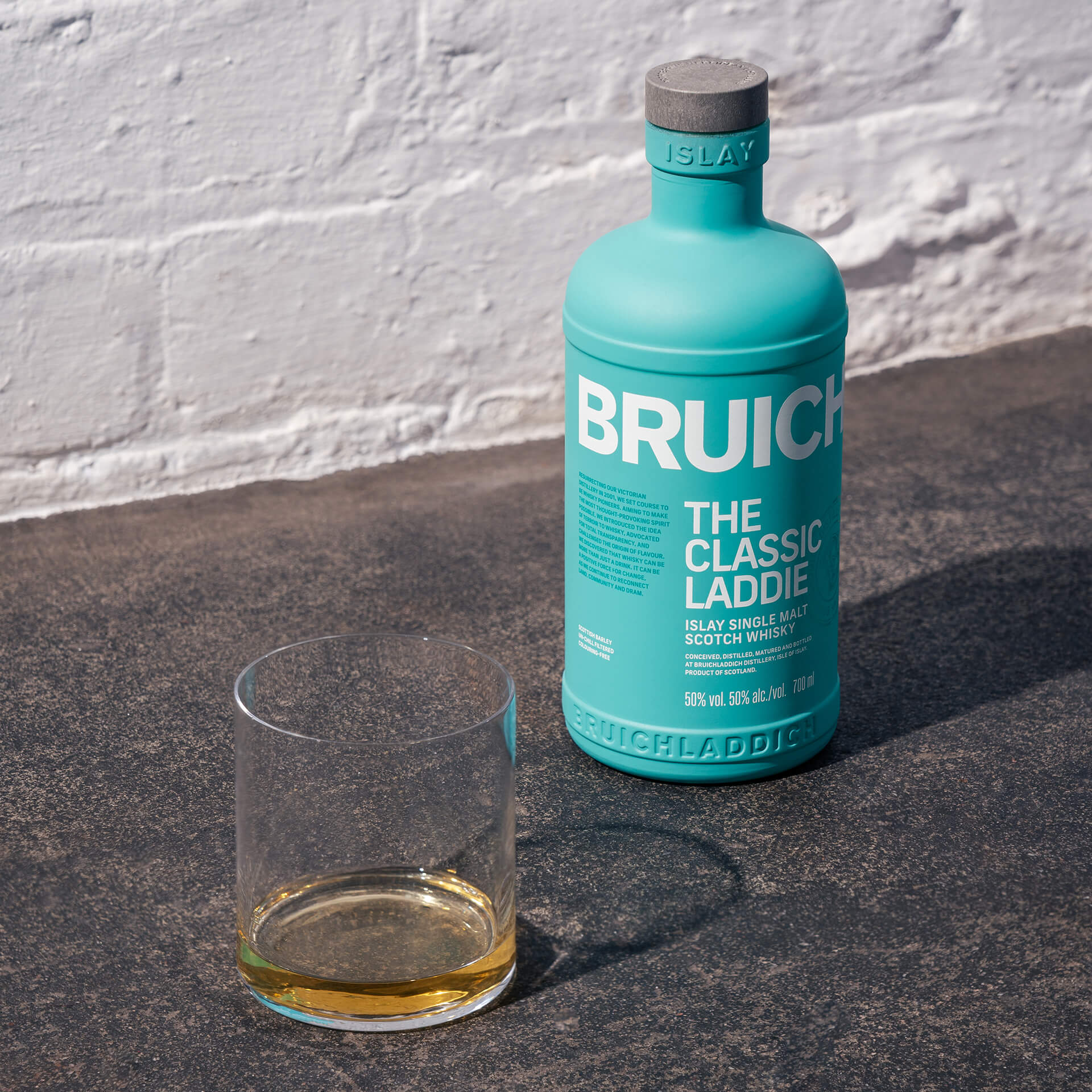 FURTHER READING
---
Discover more about what sustainability truly means to us and why we have a long-term to commitment to be more sustainable in everything we do.
MORE FROM BRUICHLADDICH DISTILLERY
---
Explore stories of our whisky making, our people and our commitment to making the most thought-provoking spirits.