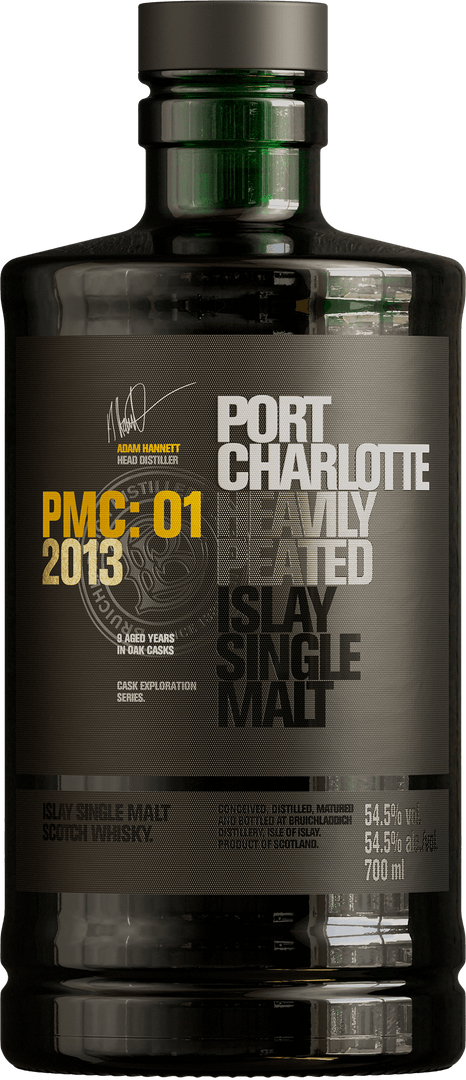 £91.67 54.5% ALC./VOL.
Port Charlotte PMC:01 is a story of place. The sixth release in our Cask Exploration series, the 2013 vintage has been profoundly influenced by the rich, fruit-laden oak of Pomerol wine casks – adding depth and complexity to this single malt.
We are committed to reducing unnecessary packaging and waste and no longer offer a secondary tin when ordering this product. Read more.
A story of place
---
We believe in creating whiskies that speak of the place they are from. When our distillery was resurrected in 2001, our founders were in disbelief about the stark disconnect between our essential raw ingredient and the industry's lack of consideration for where it was grown, who grew it and how.

But we've changed that.

Terroir is imperative to the flavour of our single malt, and the next whisky in our Port Charlotte cask exploration series, PMC:01, has spent the second half of its maturation journey in Pomerol casks from Bordeaux's Right Bank. A region with a closeknit community and renowned for its exceptional red wines, it has a distinct sense of place which directly influences the flavour of its grapes. The wines proudly speak of their point of origin, harnessing the warm climate and famous blue clay, gravel and sand of the appellation to impart a fresh yet rich silkiness.

PMC:01 is a story of place. The latest vintage - profoundly influenced by the rich, fruit-laden oak of the Pomerol casks, as well as the salty maritime note of its all-Islay maturation – brings together two unique locales. This is a whisky which links flavour to land. A whisky which speaks of a complex lineage. A whisky that is proud of where it's from.

Balancing peat smoke with subtle floral and fruit notes, this PMC:01 2013 vintage has been conceived, distilled, matured and bottled only on Islay.

Pomerol cask maturation
This 2013 vintage is the first time that Port Charlotte spirit has matured in Pomerol casks. Pomerol is home to some of the finest and most sought-after red wines in the world and is the smallest of all the major Bordeaux wine appellations. The versatile Port Charlotte spirit has been profoundly influenced by the flavour of the oak, with notes of black berry, plum and aged leather.
PRODUCT DETAILS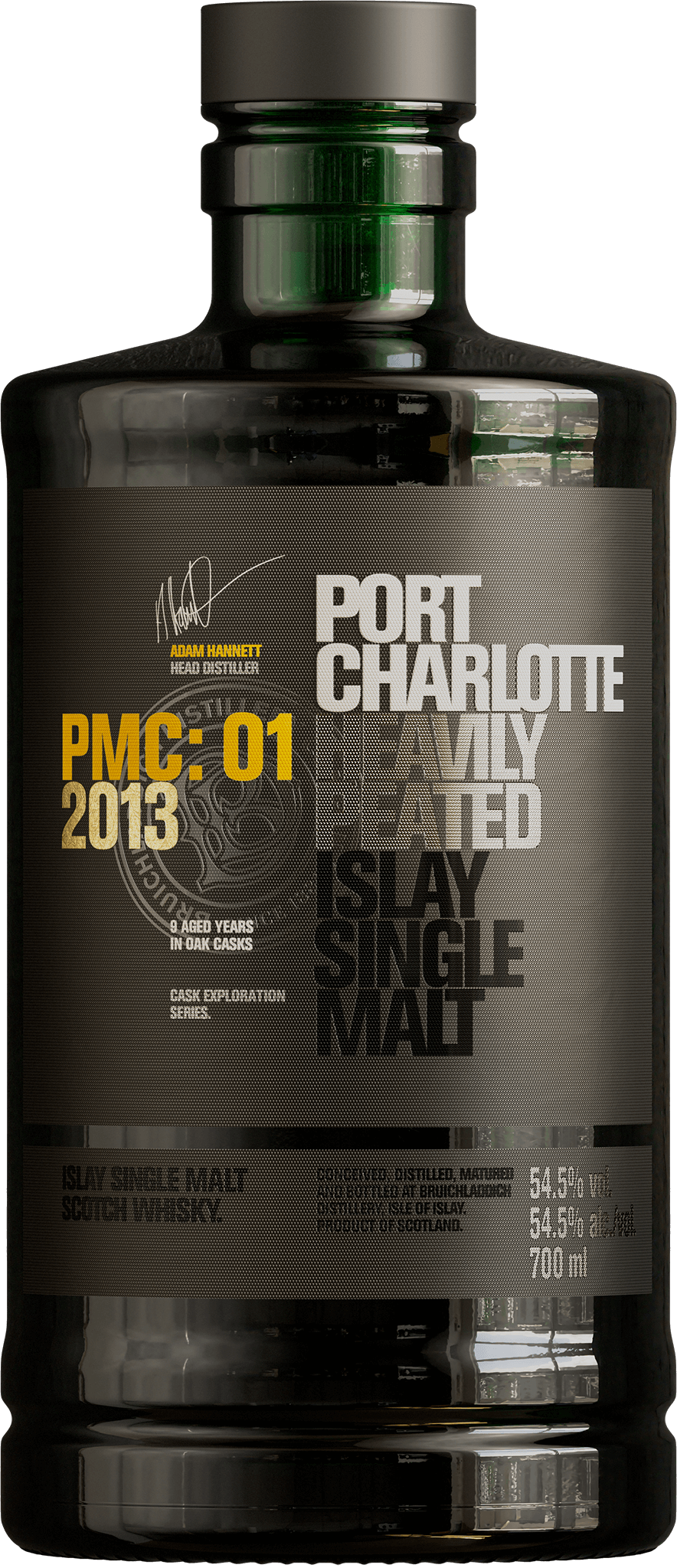 NUTRITIONAL INFORMATION
The figures below state the average representative values per serving giving 10g alcohol, or per standard 25ml measure:
| PRODUCT: | THE CLASSIC LADDIE | |
| --- | --- | --- |
| Alcohol (% by volume) | 50% | |
| Nutritional Values: | Per 10g alcohol (25,3 ml): | Per 25 ml serving:/td> |
| Alcohol (g) | | |
| Calories (Kcal) | | |
| Fat (g) | | |
| - of which Saturates (g) | | |
| Carbohydrates (g) | | |
| - of which Sugar (g) | | |
| Protein (g) | | |
"This is the first time that we have experimented with Pomerol casks in our cask exploration series, with the versatile Port Charlotte single malt profoundly influenced by the complex and diverse flavour profile of the oak."
EXPLORE MORE FROM PORT CHARLOTTE
---
Our Port Charlotte single malts are peated to a heavyweight 40PPM. Trickle distilled through our tall, narrow necked stills, the resulting rich and aromatic spirit has all the power of peat with the elegance and finesse for which our stills are famous. Port Charlotte single malt explores the complexities of natural whisky; through barley provenance, cask influence and the passing of time.
YOU MIGHT ALSO LIKE
---
Stories of our whisky-making, our people and our commitment to making the most thought-provoking spirits