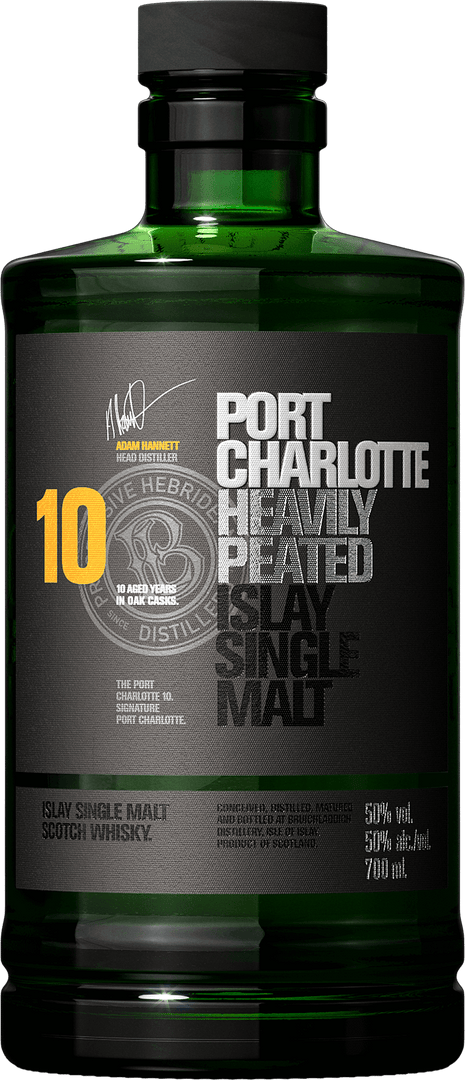 £50.00 50% ALC./VOL.
Port Charlotte 10 year old is conceived, distilled matured and bottled only on Islay. Made from 100% Scottish barley, it is trickle distilled through tall, narrow-necked stills for a balanced, heathery style of barbeque smoke.
We are committed to reducing unnecessary packaging and waste and no longer offer a secondary tin when ordering this product. Read more.
WE BELIEVE THAT AN ISLAY WHISKY SHOULD BE AS ISLAY AS POSSIBLE

---
Our Port Charlotte 10 year old expression is everything an Islay whisky can and should be.

With an ambition to make the ultimate "Islay" whisky, this is a single malt made by people not software; a whisky watched over every day of its maturing life by those who made it; a whisky born of a community with a vision and a mission to kick start a single malt whisky revolution. This Port Charlotte 10 year old is who we are. This is where we're from.
We believe an "Islay" whisky should live and breathe the fresh salt tang of Islay air, all its life. This is not a spirit distilled on the island and immediately shipped off to the mainland to mature in an undisclosed warehouse.
This is a spirit born from the island and the community, a true expression of the land, the culture, the people.
NUTRITIONAL INFORMATION
􀀲
The figures below state the average representative values per serving giving 10g alcohol, or per standard 25ml measure:
| PRODUCT: | THE CLASSIC LADDIE | |
| --- | --- | --- |
| Alcohol (% by volume) | 50% | |
| Nutritional Values: | Per 10g alcohol (25,3 ml): | Per 25 ml serving:/td> |
| Alcohol (g) | | |
| Calories (Kcal) | | |
| Fat (g) | | |
| - of which Saturates (g) | | |
| Carbohydrates (g) | | |
| - of which Sugar (g) | | |
| Protein (g) | | |
THE WHITEWASHED VILLAGE OF PORT CHARLOTTE CLINGS TO THE SHORELINE TWO MILES SOUTH OF BRUICHLADDICH
WHAT OTHERS ARE SAYING ABOUT PC 10
"There's just no excuse for not having this in your cupboard as your go-to peated whisky."

---

Mark Newton

"This is quite a (contemporary) classic: intense yet balanced, with a clear distillery stamp."

---

Ruben Luyten

"What I find terrific is how loyal to the distillery character this is, everything feels refreshingly honest and distillate forward which I love. In short: pure, loyal, extremely drinkable and worthwhile."

---

Angus MacRaild

"With this 10 years old permanent expression, bottled at 50% ABV, without chill filtration and coloring free, Port Charlotte enters the big league with a powerful and tasty single malt which stands superbly with a dash of water. A great product at a very reasonable price in view of its qualities. Peat lovers, buy without hesitation!"

---

Franck
EXPLORE MORE FROM PORT CHARLOTTE
---
Our Port Charlotte single malts are peated to a heavyweight 40PPM. Trickle distilled through our tall, narrow necked stills, the resulting rich and aromatic spirit has all the power of peat with the elegance and finesse for which our stills are famous. Port Charlotte single malt explores the complexities of natural whisky; through barley provenance, cask influence and the passing of time.
YOU MIGHT ALSO LIKE
---
Stories of our whisky-making, our people and our commitment to making the most thought-provoking spirits