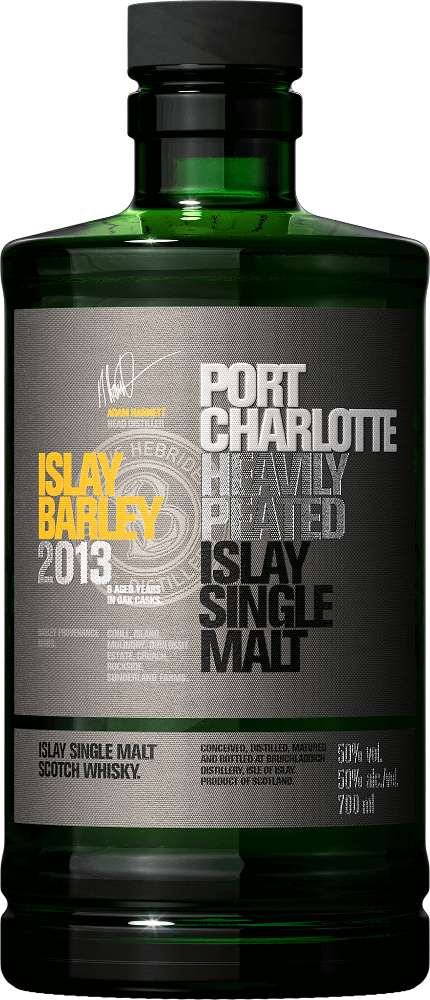 Port
Charlotte

Islay Barley

2013
£66.67 50% ALC./VOL.
Our Port Charlotte Islay Barley expressions are a direct embodiment of everything an Islay whisky can and should be. Conceived, distilled, matured and bottled on the island, with barley raised on our home shores by seven of our farming partners.
We are committed to reducing unnecessary packaging and waste and no longer offer a secondary tin when ordering this product. Read more.
UNPARALLELED PROVENANCE
---
Cruach, Island, Dunlossit, Coull, Rockside, Mulindry and Sunderland farms
In 2004, backing our drive for the ultimate "Islay" Islay single malt, farmer Raymond Stewart grew barley for us at Kentraw, just a mile from the distillery. His harvest was then malted and distilled separately - we believe the first time an Islay single malt had been made exclusively from 100% Islay grown grain.

The barley harvest for this 2013 vintage was raised on our home shores in 2012 by seven of our Islay farming partners. Hunter Jackson at Cruach, Ian McKerrell at Island farm, Raymond Fletcher at Dunlossit estate, Donald and Andrew Jones at Coull, Mark French at Rockside, Alastair Torrance at Mulindry and Raymond Stewart at Sunderland all undertook the risk of growing in challenging conditions to deliver the barley for this Scotch whisky with unparalleled provenance.

This Port Charlotte Islay Barley 2013 single malt has been matured in ex-American and ex-wine casks hailing from the Pessac-Leognan region of France. Heavily peated and malted to 40 PPM, this eight-year-old single malt pays homage to its island home.
With redberry fruits, toasted oak notes and hints of coffee and chocolate, it offers a dramatic, smoky finish.
A BELIEF IN BARLEY
We believe in barley, in its origins and its provenance. We are a community committed to our island and our radical principles of whisky-making. To us, barley is the essence of single malt whisky, a living expression of the land that nurtured it. This Islay single malt was crafted the only way we know how. By hand, nose and a keen eye on traditional, stubborn equipment. With passion and respect. With soul.
Port Charlotte
Islay Barley
2013
PRODUCT DETAILS
NUTRITIONAL INFORMATION
􀀲
The figures below state the average representative values per serving giving 10g alcohol, or per standard 25ml measure:
| PRODUCT: | THE CLASSIC LADDIE | |
| --- | --- | --- |
| Alcohol (% by volume) | 50% | |
| Nutritional Values: | Per 10g alcohol (25,3 ml): | Per 25 ml serving:/td> |
| Alcohol (g) | | |
| Calories (Kcal) | | |
| Fat (g) | | |
| - of which Saturates (g) | | |
| Carbohydrates (g) | | |
| - of which Sugar (g) | | |
| Protein (g) | | |
"THERE IS SOMETHING MAGICAL ABOUT HOW THE ISLAY GROWN BARLEY HOLDS THE SMOKE BACK FOR A MOMENT UNTIL RELEASING IT DRAMATICALLY ON THE FINISH."
EXPLORE MORE FROM PORT CHARLOTTE
---
Our Port Charlotte single malts are peated to a heavyweight 40PPM. Trickle distilled through our tall, narrow necked stills, the resulting rich and aromatic spirit has all the power of peat with the elegance and finesse for which our stills are famous. Port Charlotte single malt explores the complexities of natural whisky; through barley provenance, cask influence and the passing of time.
YOU MIGHT ALSO LIKE
---
Stories of our whisky-making, our people and our commitment to making the most thought-provoking spirits