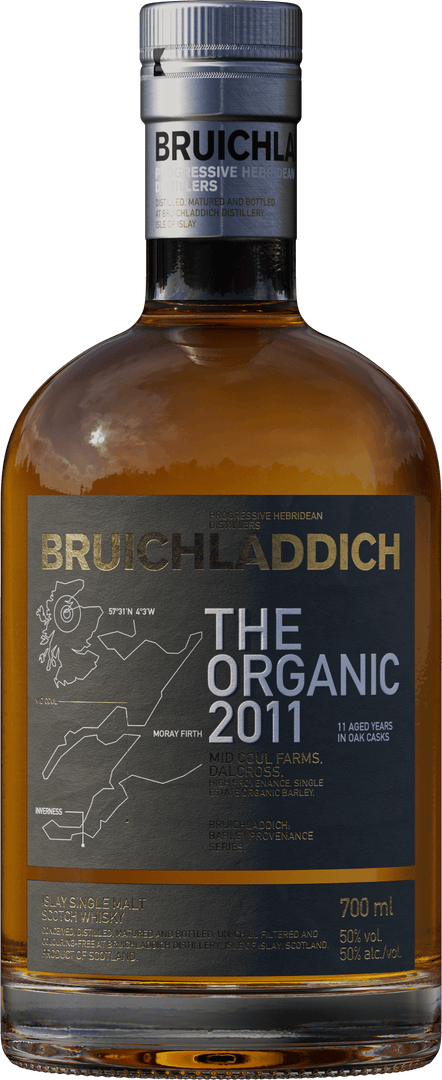 Bruichladdich
The Organic 2011
11 ISLAY AGED YEARS
£62.50 50% ALC./VOL.
A forthright expression from Bruichladdich's Barley Provenance Series, this 2011 vintage showcases the clarity of flavour from organically grown barley when distilled slowly in our tall narrow necked stills. Rich and creamy, with a luxurious mouthfeel.
We are committed to reducing unnecessary packaging and waste and no longer offer a secondary tin when ordering this product. Read more.
SUSTAINABLE SPIRIT
---
Mid Coul Farm
Mid Coul farm, located close to Inverness in the north of Scotland, provided our first crop of Organic barley back in 2003. A progressive 2,755 acre estate, Mid Coul has a closed-loop fertility system that generates electricity using an anaerobic digestor while allowing almost all waste material to be recycled as fertiliser.

With no artificial input, barley is fertilised from the ground up and is therefore the purest expression of its terroir – the soil, the climate and geographical location of where it is grown.

Working in harmony with nature, this sustainable spirit is the future of whisky and an important expression in our Barley Provenance series.

The delicate floral spirit is matured in classic American oak, bringing a wonderful combination of creamy vanilla and fudge with honeyed citrus notes, ripe fruit and delicate spices.
DEFINING AN ORGANIC WHISKY
You cannot achieve certification as an organic product unless the full production process has been audited
and approved, which is carried out annually at Bruichladdich Distillery by the Biodynamic Association. From the selection of the farms that grow the barley, to the logistics of transporting the barley, the distillery is completely washed through before fermentation and distillation (casks and bottling are also assessed).

Bruichladdich
The Organic 2011
PRODUCT DETAILS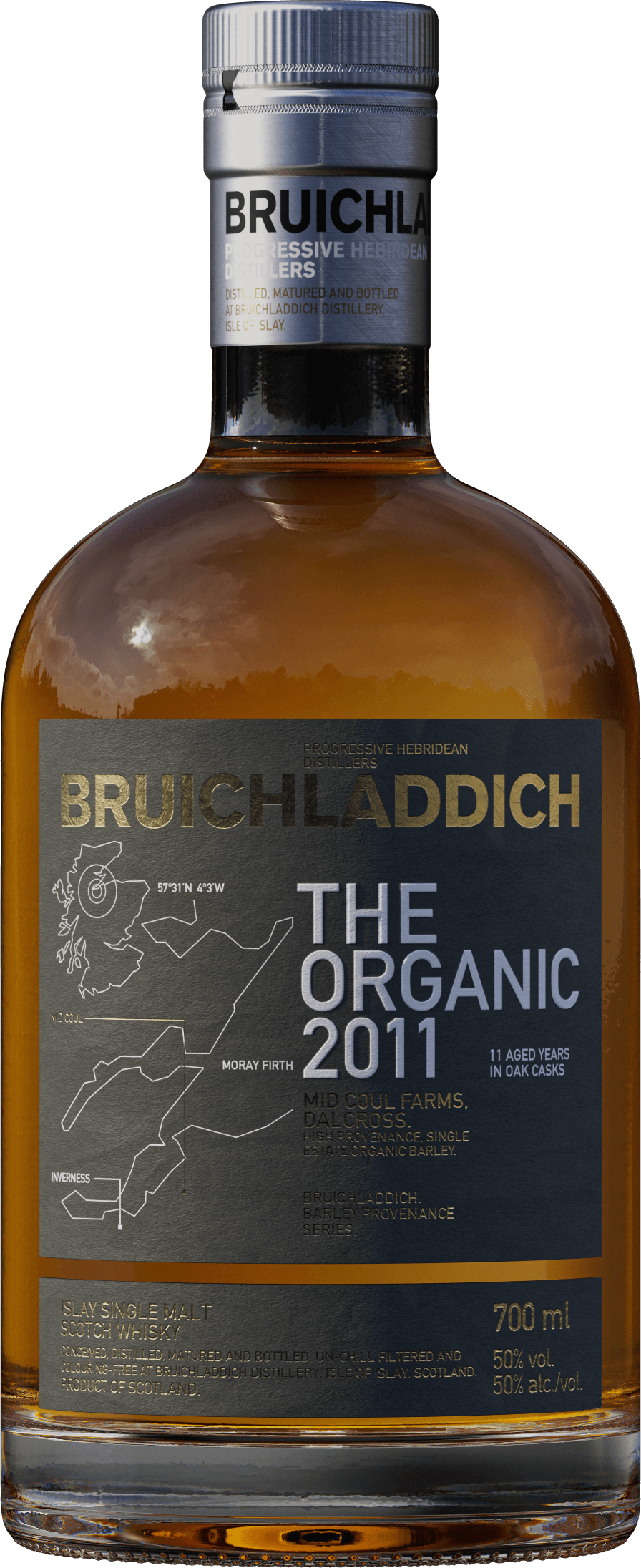 NUTRITIONAL INFORMATION
􀀲
The figures below state the average representative values per serving giving 10g alcohol, or per standard 25ml measure:
| PRODUCT: | THE CLASSIC LADDIE | |
| --- | --- | --- |
| Alcohol (% by volume) | 50% | |
| Nutritional Values: | Per 10g alcohol (25,3 ml): | Per 25 ml serving:/td> |
| Alcohol (g) | | |
| Calories (Kcal) | | |
| Fat (g) | | |
| - of which Saturates (g) | | |
| Carbohydrates (g) | | |
| - of which Sugar (g) | | |
| Protein (g) | | |
OLD IDEAS, NEW TECHNOLOGY
The Rose family have cultivated Mid Coul farm in the north of Scotland since 1912. The organic barley they raise relies on the revolutionary old ideas of our ancestors; farming without the use of artificial fertilisers and pesticides, they expertly balance new-age technology with the expertise of earlier generations.
Crops are grown in rotation, with precision agriculture supporting the specific needs of the land. The healthy soils created support both the environment and the opportunity for flavour.
EXPLORE MORE FROM BRUICHLADDICH
---
Our Bruichladdich whisky range is unpeated, floral and complex. Trickle distilled from 100% Scottish barley using much of the original Victorian machinery, the methods employed by our craftsmen have continued unchanged. This is natural whisky, non-chill filtered and colouring free.
YOU MIGHT ALSO LIKE
---
Stories of our whisky-making, our people and our commitment to making the most thought-provoking spirits