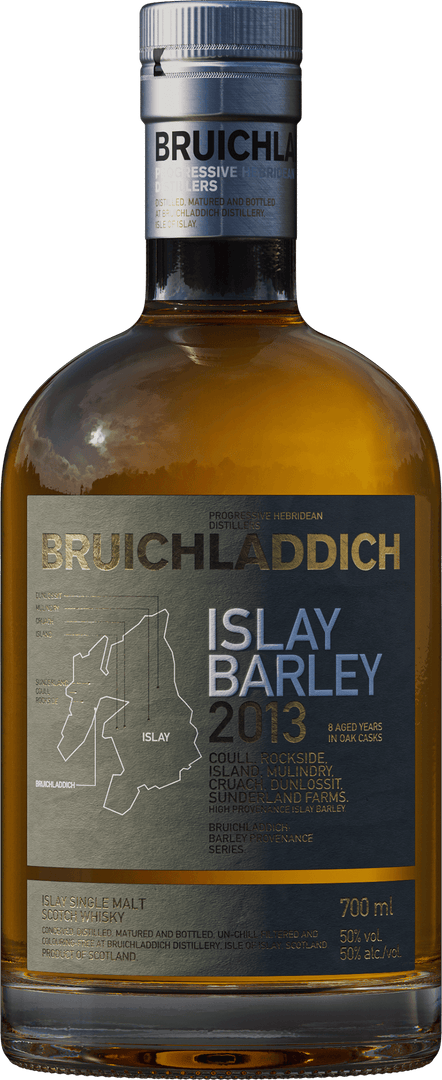 Bruichladdich
Islay Barley 2013
8 ISLAY AGED YEARS
£54.17 50% ALC./VOL.
Showcasing the permanence of our commitment to barley provenance, this Bruichladdich Islay Barley 2013 is our eighth edition of unpeated, locally grown single malt. Fully traceable and high provenance with honeyed porridge and lemon meringue pie notes, it evokes a true sense of place.
We are committed to reducing unnecessary packaging and waste and no longer offer a secondary tin when ordering this product. Read more.
A LOCALLY GROWN SINGLE MALT
---
Coull, Rockside, Island, Mulindry, Cruach, Dunlossit and Sunderland Farms
For almost two decades now, we have shown the permanence of our commitment to barley provenance. Aided by the determination of our farming partners, this Bruichladdich Islay Barley 2013 is our eighth edition of unpeated, locally grown single malt.
While each expression from the individual growing season is subtly nuanced, a signature maritime-citrus, barley forward style has developed in these complex single malts.
Our newest vintage of unpeated Bruichladdich Islay Barley features the harvest from the 2012 growing season, later distilled in 2013.
The crop was raised across seven island farms, by Hunter Jackson at Cruach, Andrew and Donald Jones at Coull, Mark French at Rockside, Ian McKerrell at Island, Alistair Torrance at Mulindry, Raymond Fletcher at Dunlossit and Raymond Stewart at Sunderland.
The resulting spirit was matured in a combination of ex-American and ex-European oak casks for eight aged years.
OUR WHISKY STARTS WITH BARLEY
As the essential raw ingredient in single malt Scotch, we have stepped outside of conventional whisky systems to trace flavour from farm to glass. In our locally grown Islay Barley editions, each bottle is a liquid embodiment of the commitment both our distillers and our local farming partners make to provenance.
Bruichladdich
Islay Barley 2013
PRODUCT DETAILS
NUTRITIONAL INFORMATION
􀀲
The figures below state the average representative values per serving giving 10g alcohol, or per standard 25ml measure:
| PRODUCT: | THE CLASSIC LADDIE | |
| --- | --- | --- |
| Alcohol (% by volume) | 50% | |
| Nutritional Values: | Per 10g alcohol (25,3 ml): | Per 25 ml serving:/td> |
| Alcohol (g) | | |
| Calories (Kcal) | | |
| Fat (g) | | |
| - of which Saturates (g) | | |
| Carbohydrates (g) | | |
| - of which Sugar (g) | | |
| Protein (g) | | |
OUR ISLAY BARLEY JOURNEY
Closely following our distillery's resurrection, we approached local farmer Raymond Stewart in 2004, to ask if he would take on the challenge of growing malting barley locally. Despite there being a centuries-long tradition of distilling on the island, there had been a distinct disconnect between distilling and farming from the late 19th century. Raymond would be the first of many farmers to produce barley that would be traced parcel by parcel, from field to maltings and through to distillation.
Nearly two decades on, our Islay Barley mission continues to be a success. 19 farming partners now grow over 50% of our annual production requirements, all within a 10 mile radius of the distillery. Not only does the project support a diversified income for the agricultural community on Islay, allowing the benefits of a booming single malt industry to be shared, it allows us to explore Islay's unique terroir – that is, the contribution of flavour from the soil, climate and the grower, to the final single malt in the glass.
EXPLORE MORE FROM BRUICHLADDICH
---
Our Bruichladdich whisky range is unpeated, floral and complex. Trickle distilled from 100% Scottish barley using much of the original Victorian machinery, the methods employed by our craftsmen have continued unchanged. This is natural whisky, non-chill filtered and colouring free.
YOU MIGHT ALSO LIKE
---
Stories of our whisky-making, our people and our commitment to making the most thought-provoking spirits